Thousands of happy customers and counting
N. Brass

"I have lived in 5 different states and by far I was treated the best by Meds in Motion. I am just starting to get back on my feet financially after being homeless and constantly in need of my medications – ones I went without for over 2 years – and I've been treated with care and compassion that is rarely seen anymore."
Andrea L.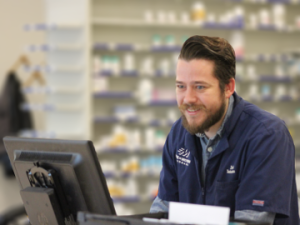 "Always amazing service!"
B. Satterfield

"Great customer service!! The entire staff is so nice & friendly, not to mention they're all very quick to help with whatever we they can! Love, love, LOVE Meds n Motion!! The only thing is they need more locations!! I live across the valley and it would be great to have their pharmacy nearby. So my only complaint is there's not enough Meds n Motion!"
T. Hadfield

"If you love long waits and lack of customer service this isn't the pharmacy for you. This pharmacy is always so prompt with their service. I've never waited more than 5 minutes to have prescriptions filled (honestly it's not usually even that long). The pharmacists and techs are so friendly too. Best pharmacy for sure!"
R. Larson

"I have never been happier with a pharmacy. Alex and Doug are amazing!! They always go out of their way to make sure I get what I need!! Always friendly and always on the ball. Thank you meds in motion you far surpass any other pharmacy."
J. Nelson

"This is the first pharmacy that has made my life significantly easier. They're always on top of everything and so consistent. They're also so friendly and very informative. Would highly recommend them for all of your prescription services! They're fantastic!"
Dena G.

"We love the pharmacy and the customer service. They take out the worry and always have our meds ready before I realize we need them. We love the bubble packaging. We don't have to take all the bottles with us. Tear one off and go. They also mail them out free of charge. Best pharmacy around by far."
S. Lay

"Everyone here is amazing! They are helpful, knowledgeable, friendly, polite… Service is quick. You couldn't ask for better service!"
HAPPY CUSTOMER?
Share your story.